Our Rooms
Our large sized guest rooms range from Superior Rooms through to the exclusive Burj Room with a floor space of 107sqm. Our 384 guest rooms are perfect for all occasions, including a short stopover, staycations, romantic get aways, family holidays, business trips or for long accommodation.
All guest rooms feature a refrigerator (minibar on request), fully functioning work desk, interactive TV system with 100 plus channels, free Wi-fi and internet access throughout the hotel, in-room safe and bedside room management control system operating your in-room lighting, air conditioning, wake up/alarm setting and do not disturb indicator. Rooms also provide guests with the convenience of tea & coffee making facilities, 24-hour room service and all rooms are with a bidet and separate shower as well as bathtub.
The hotel has 4 specially designed rooms for guests with special needs.
Superior Room - Double Bed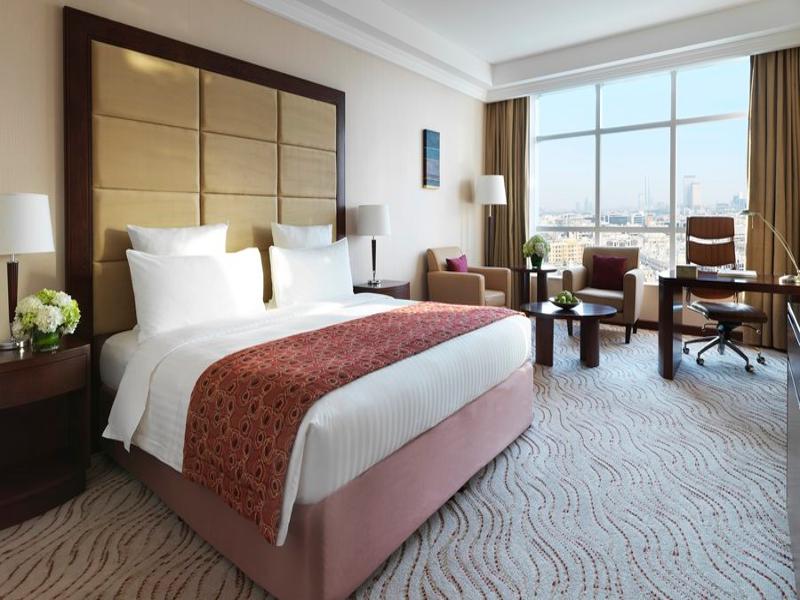 At 38sqm our spacious Superior rooms offer a tranquil getaway from the hustle and bustle of Dubai. The rooms offer the comforts of a King or Queen size bed, a deluxe en-suite bathroom, with a walk-in shower and separate bath and amenities that will enhance your stay with us. This is the perfect space to begin your cultural exploration of Dubai.

All rooms feature:
• Two arm chairs, coffee table and working station
• Bathroom with bidet and separate shower and bathtub
• Complimentary Wi-Fi access and TV entertainment
• Safe and bedside room management controlled-system (air-conditioning, wake-up alarm, make-up room and do-not-disturb indicators)
• Tea and coffee making facilities
• Comprehensive mini bar (available upon request)
• 24-hour room service
Superior Room - Twin Beds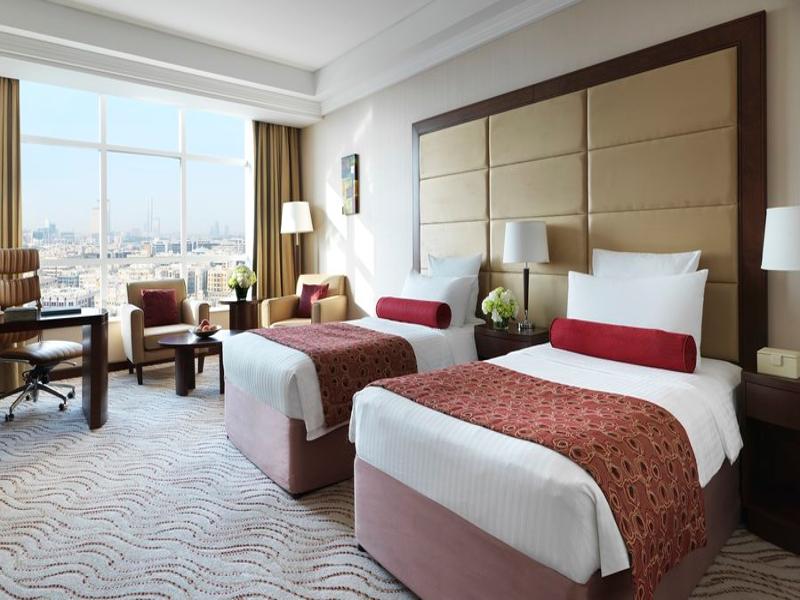 At 38-39 sqm our spacious Superior rooms offer a tranquil getaway from the hustle and bustle of Dubai. The rooms feature two single beds, a deluxe en-suite bathroom, with a walk-in shower and separate bath and amenities that will enhance your stay with us. This room is well suited for small families or friends travelling together and require that extra comfort for their stay.

Simply book any of our twin rooms!

All rooms feature:
• Two arm chairs, coffee table and working station
• Bathroom with bidet and separate shower and bathtub
• Complimentary Wi-Fi access and TV entertainment
• Safe and bedside room management controlled-system (air-conditioning, wake-up alarm, make-up room and do-not-disturb indicators)
• Tea and coffee making facilities
• Comprehensive mini bar (available upon request)
• 24-hour room service
Superior Room - Triple Beds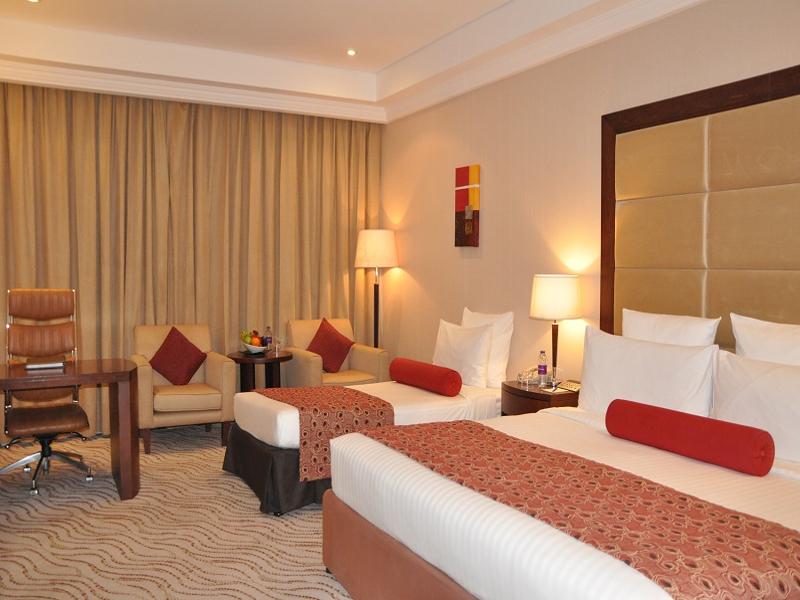 After a busy day of exploring Dubai and its famous local attractions unwind in the luxurious comforts of Park Regis Kris Kin. At 38sqm the Superior Triple room is perfect for the family. Featuring one double and one single bed this room offers more space to accommodate everyone. Rejuvenate in your deluxe en-suite bathtub or take a swim in the rooftop pool which overlooks the Dubai City Skyline.

All rooms feature:
• Double bed with one single bed
• Two arm chairs, coffee table and working station
• Bathroom with bidet and separate shower and bathtub
• Complimentary Wi-Fi access and TV entertainment
• Safe and bedside room management controlled-system (air-conditioning, wake-up alarm, make-up room and do-not-disturb indicators)
• Tea and coffee making facilities
• Comprehensive mini bar (available upon request)
• 24-hour room service
Deluxe Room - Double Bed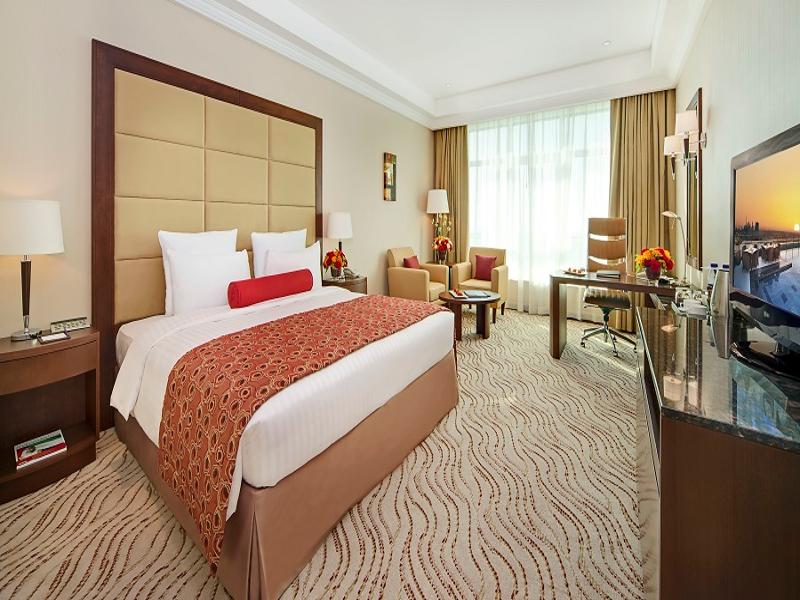 Located within the vibrant historic district of Bur Dubai, the soft earth tones and elegant styling of the 38sqm Deluxe Double Room will provide you with a tranquil haven after a day of exploring the city. Rest in your lush king or queen size bed or rejuvenate in your deluxe en-suite bathroom with full amenities which features a walk-in shower and separate bathtub or take a swim in the rooftop pool which overlooks the Dubai City Skyline.

All rooms feature:
• Two arm chairs, coffee table and working station
• Bathroom with bidet and separate shower and bathtub
• Complimentary Wi-Fi access and TV entertainment
• Safe and bedside room management controlled-system (air-conditioning, wake-up alarm, make-up room and do-not-disturb indicators)
• Tea and coffee making facilities
• Comprehensive mini bar (available upon request)
• 24-hour room service
Deluxe Room - Twin Beds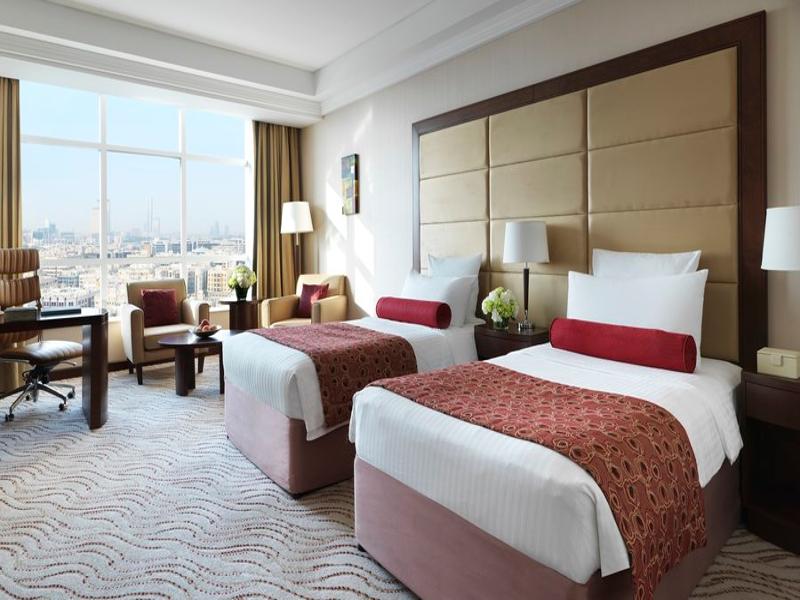 Located within the vibrant historic district of Bur Dubai, the soft earth tones and elegant styling of the Deluxe Twin Room will provide you with a tranquil haven after a day of exploring the city. The room is 38-39 sqm and features two single beds, which is perfect for friends or work colleagues travelling together. Rooms also feature a deluxe en-suite bathroom with a walk-in shower and separate bathtub. Indulge in the enticing array of pampering facilities at the rooftop or take a swim while enjoying the beauty of Dubai skyline.

All rooms feature:
• Two arm chairs, coffee table and working station
• Bathroom with bidet and separate shower and bathtub
• Complimentary Wi-Fi access and TV entertainment
• Safe and bedside room management controlled-system (air-conditioning, wake-up alarm, make-up room and do-not-disturb indicators)
• Tea and coffee making facilities
• Comprehensive mini bar (available upon request)
• 24-hour room service
Deluxe Room - Triple Beds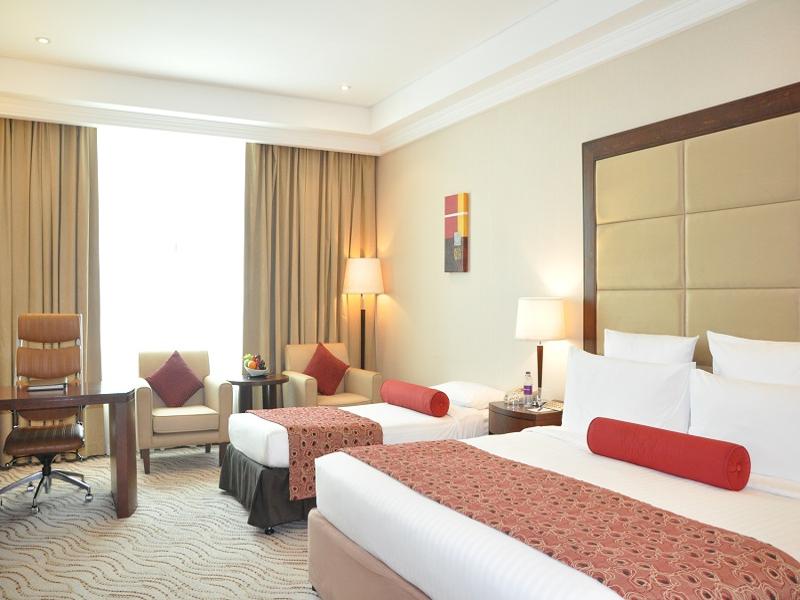 Immerse yourself into warm hospitality of contemporary and spacious Deluxe Triple room which is perfect for the family. At 41sqm this room features one double and one single bed offering you the comfort and space to accommodate everyone. Now is the time for you and your family to take pleasure on the beauty of Dubai skyline at the rooftop pool or indulge on the enticing array of pampering facilities such as Jacuzzi, steam and sauna.

All rooms feature:
• Double bed with single bed
• Two arm chairs, coffee table and working station
• Bathroom with bidet and separate shower and bathtub
• Complimentary Wi-Fi access and TV entertainment
• Safe and bedside room management controlled-system (air-conditioning, wake-up alarm, make-up room and do-not-disturb indicators)
• Tea and coffee making facilities
• Comprehensive mini bar (available upon request)
• 24-hour room service
Suite - Double Bed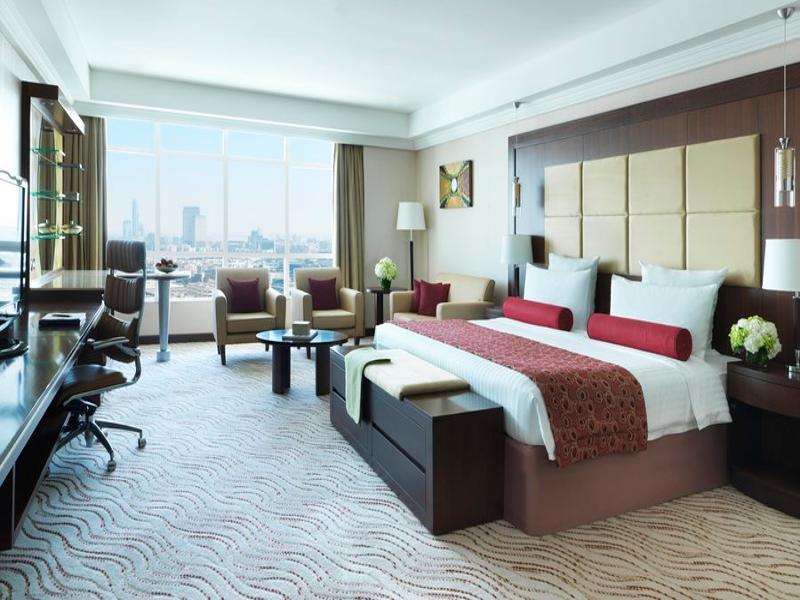 Inspired by the warm earthy tones of the Middle East these elegant Junior Suites are ideal for the leisure or business traveller. At 77sqm these suites feature a king size bed, spacious en-suite bathroom and a generous living area. Now is the time to relish the opportunity to soak up the views of the Dubai city skyline at the rooftop while enjoying a tantalizing array of pampering amenities and refreshing outdoor pool.

All rooms feature:
• Modern style working station and two chairs
• Bathroom with bidet and separate shower and bathtub
• Complimentary Wi-Fi access and TV entertainment
• Safe and bedside room management controlled-system (air-conditioning, wake-up alarm, make-up room and do-not-disturb indicators)
• Tea and coffee making facilities
• Comprehensive mini bar (available upon request)
• 24-hour room service
Suite - Triple Beds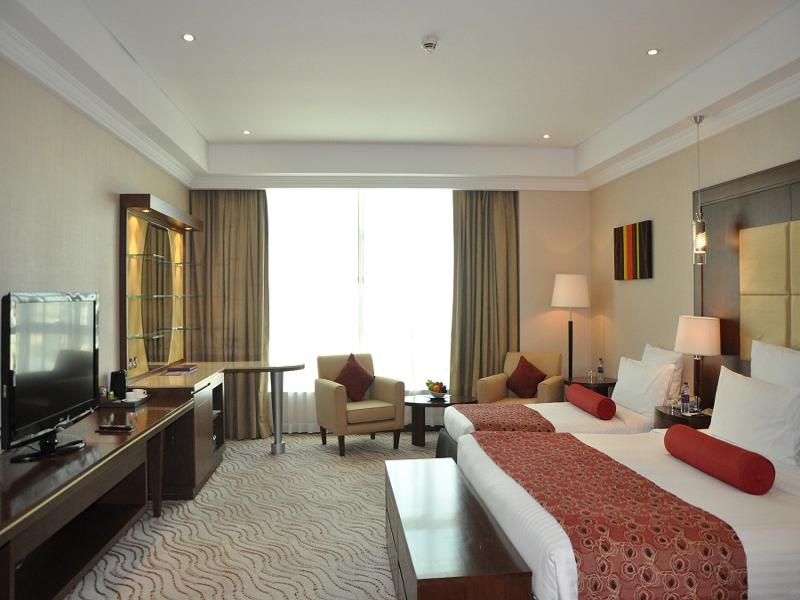 Inspired by the warm earthy tones of the Middle East these elegantly furbished Junior Suites are ideal for the families or friends exploring the cultural heritage of Dubai. At 77sqm these suites feature one king bed and one single bed, spacious en-suite bathroom and a generous living area. Mesmerize yourself with the opportunity of seeing the beauty of Dubai skyline while plunging in our rooftop swimming pool.

All rooms feature:
• King bed with single bed
• Two arm chairs, coffee table and working station
• Bathroom with bidet and separate shower and bathtub
• Complimentary Wi-Fi access and TV entertainment
• Safe and bedside room management controlled-system (air-conditioning, wake-up alarm, make-up room and do-not-disturb indicators)
• Tea and coffee making facilities
• Comprehensive mini bar (available upon request)
• 24-hour room service
Suite - Two Double Beds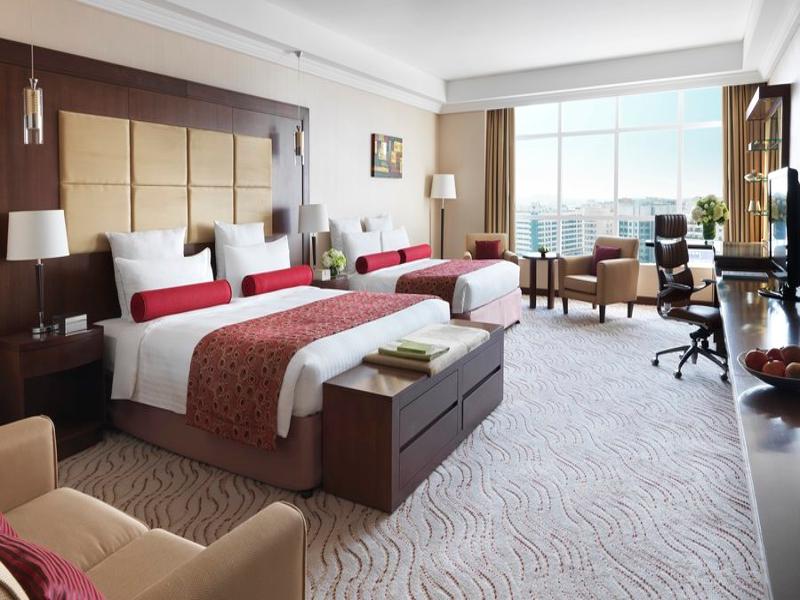 Inspired by the warm earthy tones of the Middle East these elegantly furbished Junior Suites are ideal for the families or friends exploring the cultural heritage of Dubai. At 77sqm these suites feature a two double beds, spacious en-suite bathroom and a generous living area. Enjoy a wide array of pampering amenities or take a swim in the rooftop swimming pool and be mesmerized with the beauty of Dubai skyline.

All rooms feature:
• Modern style working station and two chairs
• Bathroom with bidet and separate shower and bathtub
• Complimentary Wi-Fi access and TV entertainment
• Safe and bedside room management controlled-system (air-conditioning, wake-up alarm, make-up room and do-not-disturb indicators)
• Tea and coffee making facilities
• Comprehensive mini bar (available upon request)
• 24-hour room service
Two Bedroom Suite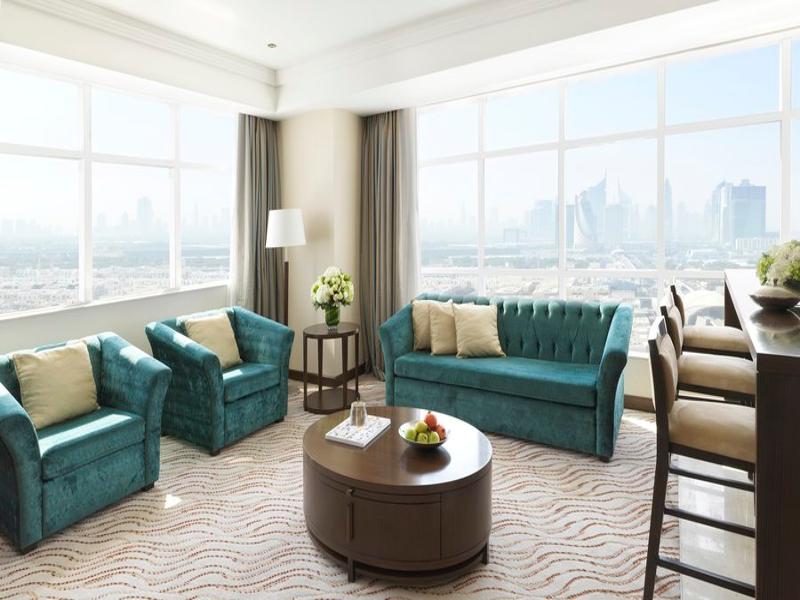 It is time to immerse yourself in the sanctuary and wonder of Dubai. Perfect for families, friends or the business travellers, the Burj Executive 2-bedroom Suite is 94sqm and features all the charm and warmth of the Middle East. Furbished with earthy tones these suites consist of a lush king size bedroom and the second bedroom consists of two king single beds. Spend time together in the living area, overlooking the city skyline or indulge on the tantalizing array of pampering amenities and benefits.

These are some of its amazing features:
• Modern style working station and two armchairs
• Bathroom with bidet and separate shower and bathtub
• Complimentary Wi-Fi access and TV entertainment
• Safe and bedside room management controlled-system (air-conditioning, wake-up alarm, make-up room and do-not-disturb indicators)
• Tea and coffee making facilities
• Comprehensive mini bar (available upon request)
• 24-hour room service

Not only that! You will enjoy a wide array of benefits and privileges:

• Complimentary breakfast buffet at Kris with a View Restaurant
• Complimentary daily evening pre-dinner drinks and canapes at the Kris Wine Lounge from 6:00 pm to 8:00 pm.
• Complimentary laundry service for 2 pieces
• 20% discount on food & beverage outlets